Financial Options
At the dental office of Joseph A. DeLapa, DDS, we want you to receive excellent dental care with payment options that meet your family's financial needs. As part of this commitment we accept:
Cash
Personal checks
Discover
Visa
American Express
MasterCard
Citi Health Card
CareCredit
Citi Health Card and CareCredit are third-party financing options that offer low- and no-interest payment plans. For patients with dental insurance, our friendly dental team will also help file your insurance papers for reimbursement. For information regarding our financial options, we invite you to contact our South Salem, New York dental office today. We look forward to serving you!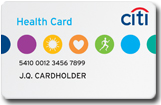 Patient Forms
We want you to have a positive experience each time you visit our dental office in South Salem, New York. Below, you will find a listing of required forms for both new and returning patients. Click the name of each form to view and then print a copy of it out. Please bring the completed forms in with you on your next office visit. If you have any questions, please feel free to contact our dental team for assistance. We are always happy to help!
(All forms are required for new patients. Forms marked with an asterisk (*) are required for returning patients.)
Authorization to Treat a Minor
*Notice of Privacy Practices Acknowledgement